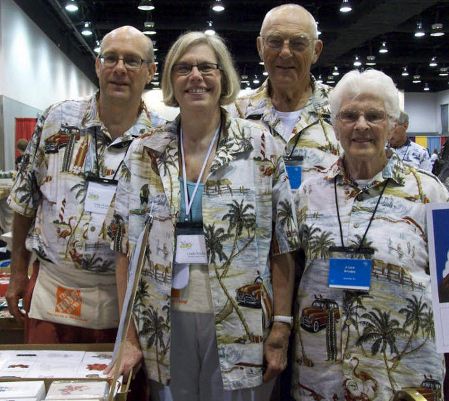 The Priebes ( Greg, Linda, Hank, & AJ ) At the 2013 National KOC event
Linda has been collecting Hallmark ornaments since the 1970s. She became an avid collector in the 1990s when the Tin Locomotives and Lionel trains caught her eye for decorating our train themed deli. However, not only did she buy train ornaments, She continued to expand her snowmen, gingerbread and other ornament collections.
Greg got drawn into her hobby tagging along with Linda on her search for collectibles. He really came exited about collecting when he attended his first National KOC Event in 2003 and discovered room hopping (collectors have rooms open to sell by using following signals - door is open, towel, hallmark bag, or by having door or room entrance decorated) was held other than Friday night after the Local Club Dinner. We drove to Chicago with a couple local club members for event. They wanted to get home early Saturday and failed to mention that room hopping was also on Saturday and before the dinner. He was Hooked at this point there was no going back. Linda says that Greg constantly goes overboard on collecting. She constantly reminds him about his choice of 1999 Santas Whiligig he bought quite a few and they are still around think the last one was sold in 2014. Just a reminder with Hallmark Ornaments collect only what you like. As Hank says the way to make a small fortune in the wine business is start out with a large fortune.
Gregs folk Started helping us out at the 2007 National Event. We were trying to figure out how to be in two places at once have the room open and be on the floor and asked them if they would consider helping out. When the event was over with we thought we would wait a year and see if they were interested in helping again. As Gregs folks we waiting to catch the shuttle back to the airport Hank asked when the next event would be. During the Event fellow collectors were telling us about the shuttle ride from the airport to the hotel with my folks that Hank was telling everybody about his grape crop while AJ was trying to meet everybody. Hank gets up real early but also goes to bed early unfortunately we had there room open to midnight. Greg found his father asleep in the lobby. AJ was standing in line to pick up registration packets at the last event. Greg final had to remind her that there where other people standing in line behind her. She was talking to Hallmark Represantive about were she had lived. At the event Greg And Linda keep there room open to well after midnight so Hank and AJ open the table in the secondary dealers table at 8:00 am she will have a list of people looking for different ornaments by the time we get there.
Linda began selling ornaments online and at shows in the late 90s when her collection filled and over ran our third bedroom presently we are renting storage to house Lindas personal collection. She buys, sells and trades these wonderful small and miniature works of art. She will handle your ornaments as if they were her own. I know when I buy something online I want to know what I am getting and is in the condition represented. Greg absolutely detest receiving something in a damaged box if it was not represented as such. Therefore, we will describe my inventory as accurately as possible.
For tips on collecting and to see what the Priebes are up to check out our facebook page -keepsake Caboose - we try and keep it light
My inventory is constantly changing so please check the site often and/or CONTACT US if you are looking for something specific which you do not see here. For references check my feedback on Ebay. Use your browser back button to return to our catalog from Ebay.